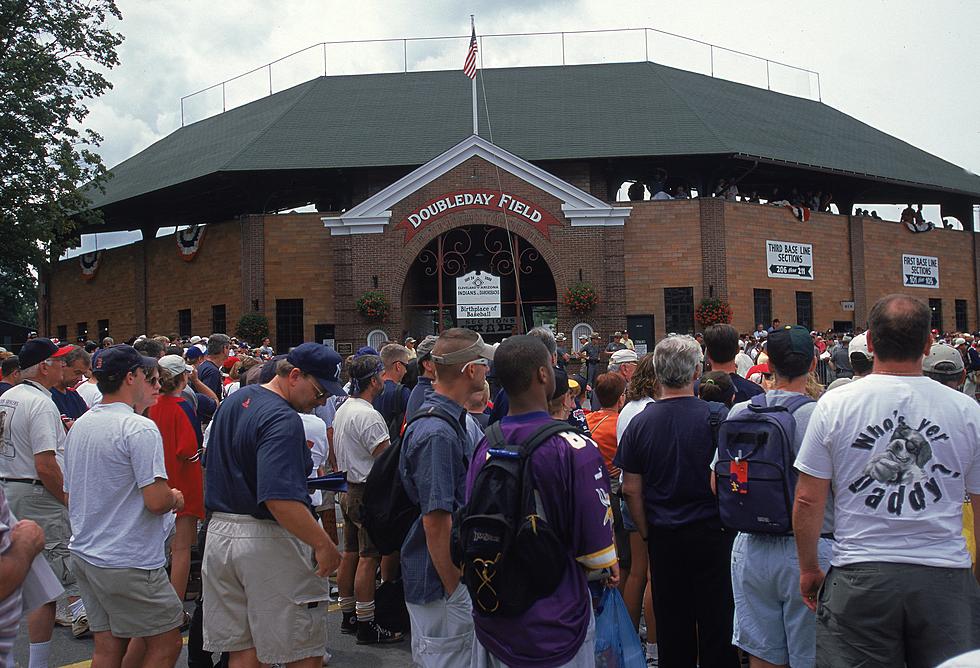 Could Doubleday Field Host MLB Regular Season Game?
24 Jul 2000: A general view of the exterior of Doubleday Field, located next to the Baseball Hall of Fame in Cooperstown, New York.Mandatory Credit: Ezra O. Shaw /Allsport Getty Images
Is it time for an MLB return to Doubleday Field in Cooperstown, New York?
You have to go way back to the summer of 2008 to remember the last time two MLB clubs were scheduled for duty in Cooperstown.  That was the last year when the long-standing tradition of the in-season exhibition game between two MLB clubs made their way to Doubleday Field.  The annual game was known as the Hall of Fame Game.  In most instances, an American League and National League representative was scheduled for the day game in Otsego County.
Unfortunately, the 2008 game scheduled between the San Diego Padres and Chicago Cubs was rained out.
To replace the Hall of Fame Game, the National Baseball Hall of Fame and Museum has presented the Hall of Fame Classic since 2009. MLB alumni representing each of the 30 franchises suits up for a seven-inning  game. The concept and execution of this annual event remains nothing less than marvelous.  With the success of the Classic, perhaps MLB Commissioner (and Rome,NY native) Rob Manfred should take a look at the feasibility of bringing two clubs, once again, to the "Home of Baseball."
MLB certainly isn't shy about expanding their brand to markets that are rich in the game's history, as well as introducing its players to new fan bases.
Next season, June 8-9, the New York Mets and Philadelphia Phillies will be playing two games in London, England.  In recent years, MLB regular season games have been played in Mexico, Japan, and Australia.  Along with the two National League clubs playing in England in 2024, MLB executives have the Los Angeles Dodgers and San Diego Padres booked for two games in Seoul, South Korea.
Each season since 2017, MLB officials have brought two clubs to Bowman Field in Williamsport, PA, to pay homage to Little League Baseball.  Later this month in Williamsport, the Phillies and Washington Nationals will be playing their game primarily in front of Little Leaguers and their families - before a national television audience.
A few years back, a regular season MLB game between the Atlanta Braves and Miami Marlins played on an active military base - Fort Bragg in North Carolina.
MLB has announced for June 2024, the San Francisco Giants and St. Louis Cardinals will be entertaining fans in Birmingham, AL.  Their games will be played at Rickwood Field, the oldest professional baseball park in America.  This ballpark is also rich in Negro League history where many greats such as Willie Mays honed his craft.
Plus, who can forget the two regular season MLB games played in Dyersville, Iowa, on a constructed field next to the site where the 1989 film Field of Dreams was filmed?
The Village of Cooperstown has completed an outstanding upgrade of Doubleday Field. With the richest of baseball history tucked away in Cooperstown, how can MLB officials not consider bringing the game's ever-traveling road show to the shadows of the Hall of Fame?
Both grants and private donations have made Doubleday Field even more baseball attractive than before changes were made.  Much of the improvements and the move to makeover Doubleday Field came at the leadership of Cooperstown resident Jeff Katz.  Thanks to the Friends of Doubleday, improvements to the bleachers, the field, the entrance of the field and the surrounding parking area became reality.
Doubleday Field's seating capacity is just shy of 10,000.
The stunning new building on the third base side of Doubleday Field would allow ballplayers to change there, as opposed to in the past, when MLB teams used a makeshift clubhouse at Clark Sports Center outside the Village limits.
MLB can't forget its most famous address - Cooperstown,NY, when getting around to their 20225 season.  Doubleday Field is ready.
Don Laible is a freelance sportswriter from the Mohawk Valley, now living in Florida. He has reported on professional baseball and hockey for print, radio, and on the web since the 1980's. His columns are featured weekly at WIBX950.com. Don can be contacted via email at Don@icechipsdiamonddust.com. 
Fox Host Failla Reaches USA from WIBX Studio in Utica
The host of Fox Across America with Jimmy Failla which airs coast to coast and on WIBX 950 and 106.9 FM weekdays from noon 'til 3, was in Utica this past weekend. Jimmy Failla sat in on the Keeler in the Morning Show on Friday morning December 3, 2021, and then did his national show on FOX News Radio from WIBX's studio.
Failla is a former New York City cab driver turned stand up comic and over the weekend, he performed 4 sell-out shows at Utica's Fat Katz Comedy Club in Washington Mills.
Check out some snap shots from the weekend.
Top 10 Local News Stories of 2021
As 2021 comes to an end, here are the Top 10 local news stories of the year.
Top 5 Local Sports Stories Of 2021
There were many local sports stories that highlighted 2021, including a couple of firsts. Here are a look at the Top Five, along with a bonus story.
10 Photos That Remind You Just How Much Litter America Produces
10 Photos That Remind You Just How Much Litter and Pollution America Produces