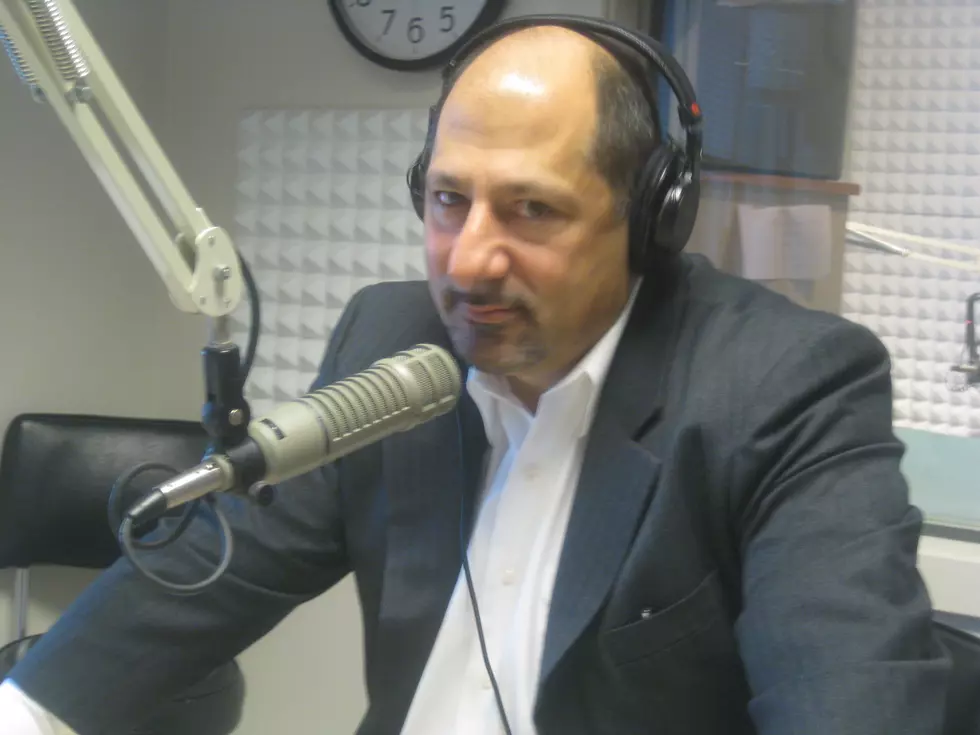 Joe Hobika Says "He Has No Choice But to Run" for Utica School Board
Joe Hobika Jr. (Photo by Kristine Bellino, WIBX)
The Utica School Board President says he feels obligated to run for re-election in the upcoming board election in May because he has to finish what he started.
Joseph H. Hobika Jr. is referencing his work over the last few years with the majority on the board of education to "clean up the district" and continue their "quest to be an exemplary high performing school district." He said, "we should accept nothing less."
"I decided I was going to run again when we discovered several "no -show" jobs and blatant abuses of overtime, along with inappropriate purchasing practices and a lack of inventory control that completely left us in jeopardy," Hobika said. "This was when I realized I had no choice but to run for re-election."
Hobika, whose father was on the Utica School Board for 25 years and also served as board president, made it clear that "if you're for no-show jobs, abuse of overtime, wasting money and electing board members so they can get their family and friends hired by the district, I'm clearly not your guy,"
Hobika made no reference to Superintendent of Schools Bruce Karam during his radio interview, nor did he mention him in his press release. Karam is currently on paid administrative leave while an independent investigator looks into his conduct following complaints made by fellow administrators and employees at the district.
During an interview with Oneida County Executive Scott McNamara last week, the DA said he couldn't talk about Karam when asked if there was an ongoing district attorney investigation into the Superintendent. Currently, Brian Nolan of Syracuse is serving as Utica's acting Superintendent of Schools.
Hobika said, in addition to cleaning up the past, he's also very proud of what's been accomplished in move the district forward during a short period of time. "While president, we've worked together as a board to assist the administration in creating sweeping change that will make a positive difference for our students. We're creating a better work environment for faculty and staff to improve communication with our students and their parents. We've re-established college partnerships for our students, as well as the development of strategic planning for career and tech education (CTE) with a regional high school. We've worked to solve contract disputes with teachers, service employees and administrators. We've placed a priority on early childhood education and established partnerships with Safe Schools, Ican, Hillside Work Scholarship Connection, OnPoint for College and others. We've added social workers, reading teachers, mental health professionals, and are currently restructuring the Special Education Department with a qualified department-head to oversee the process. We're also working to improve communication with parents to better include them in their child's educational experience," he said.
"This is all just the beginning for the Utica School District. I'm asking for the people's vote on election day and in return I promise to leave them with a clean, well operating school district that will be efficient and will appropriately benefit our children for years to come," said Hobika. "We owe the taxpayers of Utica nothing less." 

The annual budget vote and school board election will be held on Tuesday, May 16, 2023. 
Click here to read things Hobika says the board has accomplished since he's been president of the Utica School Board of Education.
World's Largest Dish of Pasta, and a Wedding - Utica, NY, Feb 14, 2004
The Guinness Book of World Records affirmed in 2004, that the World's Largest Dish of Pasta was made in Utica, NY with the Keeler Show. Now with WIBX, Keeler worked with Tony's Pizzeria and other to create a dish of pasta weighing over 7,000 lbs. and the event included an actual wedding. The dish of pasta weighed 7,355 lbs. (3,336 kg) and lasted in the Guinness Book for several years. The dish was assembled and the wedding was held at Sangertown Square in New Hartford, when Keeler was hosting a 6 night a week television show, The Keeler Show, on FOX 33 TV in Utica and FOX 68 in Syracuse.
The Many Intense Faces and Expressions of FDU (Iona) Head Coach Tobin Anderson
Anderson who was an assistant coach at Le Moyne, and head coach at Hamilton College in Clinton, NY shocked the basketball world with 2 wins in this year's NCAA Tournament as the FDU head coach. Anderson is emotional and a man of many expressions while barking out inspiration and instructions to his FDU Knights. Anderson accepted the head coaching job at Iona on Tuesday, March 21, 2023.
33 Photos: Utica's Blues Legend Joe Bonamassa Plays Landmark in Syracuse
Arguably one of the world's greatest guitarists, Joe Bonamassa played the Syracuse Landmark Theatre on March 11, 2022. Bonamassa, who grew up in Utica, NY, as Smokin' Joe Bonamassa played in Syracuse, one of his hometown cities. The show was amazing and here are 33 great photos that actually pale in comparison to the amazing sound that came out of the speakers via the guitar of Joe Bonamassa and his amazing band.