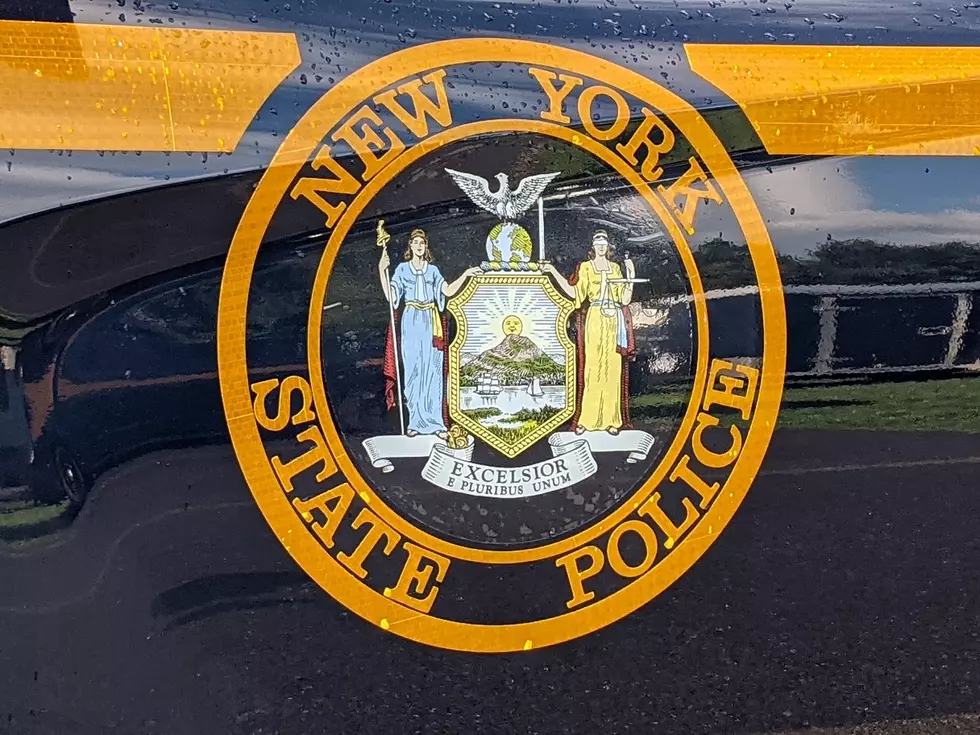 Man Dies in A-T-V Accident While Visiting Upstate New York
New York State Police car with NYSP logo Photo Credit: Benjamin Furner, WIBX/Townsquare Media
New York State Police in Marcy are investigating a fatal crash involving an out-of-state man and an ATV in the North Country.
Troopers say they're investigating a fatal ATV crash that occurred on October 27, 2023, on Domser Road in the town of Boonville, in Oneida County.
The preliminary investigation has determined that at approximately 8:30 p.m., a 2006 Polaris Sportsman 700 ATV, operated by 30-year-old Andrii Yavorskyi, from Norwalk, Connecticut was traveling west on Domser Road when he lost control of the ATV on a sharp curve in the road. Troopers say Yavorskyi then drove off the roadway and the ATV overturned.
Troopers say Yavorskyi was ejected from the ATV and as a result of injuries he received, was pronounced deceased at the scene. Troopers discovered that he was not wearing a helmet at the time of the crash.
"New York State law requires all ATV drivers and passengers must wear USDOT-approved helmets and eye protection while using ATVs. Either a motorcycle helmet or motocross helmet are acceptable types of helmets to wear while using an ATV."
Meanwhile, New York State is one of the states in the nation that does not require a driver's license to operate an All Terrain Vehicle (ATV). However, restrictions do apply to minors. Individuals under the age of 15 can operate an all-terrain vehicle only under the supervision of an adult or after the completion of an ATV training safety course. Safety training courses must be approved by the Department of Motor Vehicles, and they're available throughout the state. Critics say, often times these restrictions are not enforced.
61 Amazing Snapshots of Utica's Most Unique Boilermaker Ever
The 2021 Utica Boilermaker Road Race will go down in the history books as one of the most unique, with an all-vaccinated field running the 5K and 15K on October 10th, without elite runners, and with thousands of regular participants sitting this one out because of COVID. The excitement this year was special and exclusive and there was no shortage of it, as seen through the lens of award winning photo-journalist Nancy L. Ford of Utica. Here are 61 awesome photos featuring some of the best moments from this year's race.
Gallery Credit: Bill Keeler
Utica's Chicken Riggies Dish Wasn't Invented in Utica? Say It Isn't So.
The now-famous Utica Chicken Riggies recipe has taken on a life of its own. The dish is now found well outside the Utica-Rome area and it's getting more and more popular as word spreads around the northeast. While there are many variations of the dish today, there's still only one original recipe. So, who created the first "Riggies" recipe and where did it really originate.
Gallery Credit: Bill Keeler
9 New Favorites from the New Menu at Utica's 72 Tavern and Grill
The 72 Tavern and Grill, a Utica, NY sports bar and restaurant connected to the Adirondack Bank Center, has now re-opened after an 18-month COVID-19 shutdown. The grand reopening has featured previous favorites from the previous menu, and some new updated menu items. Here are photos taken by photographer Nancy L. Ford of some of our favorites tasted during the restaurant's soft opening.
Gallery Credit: Bill Keeler