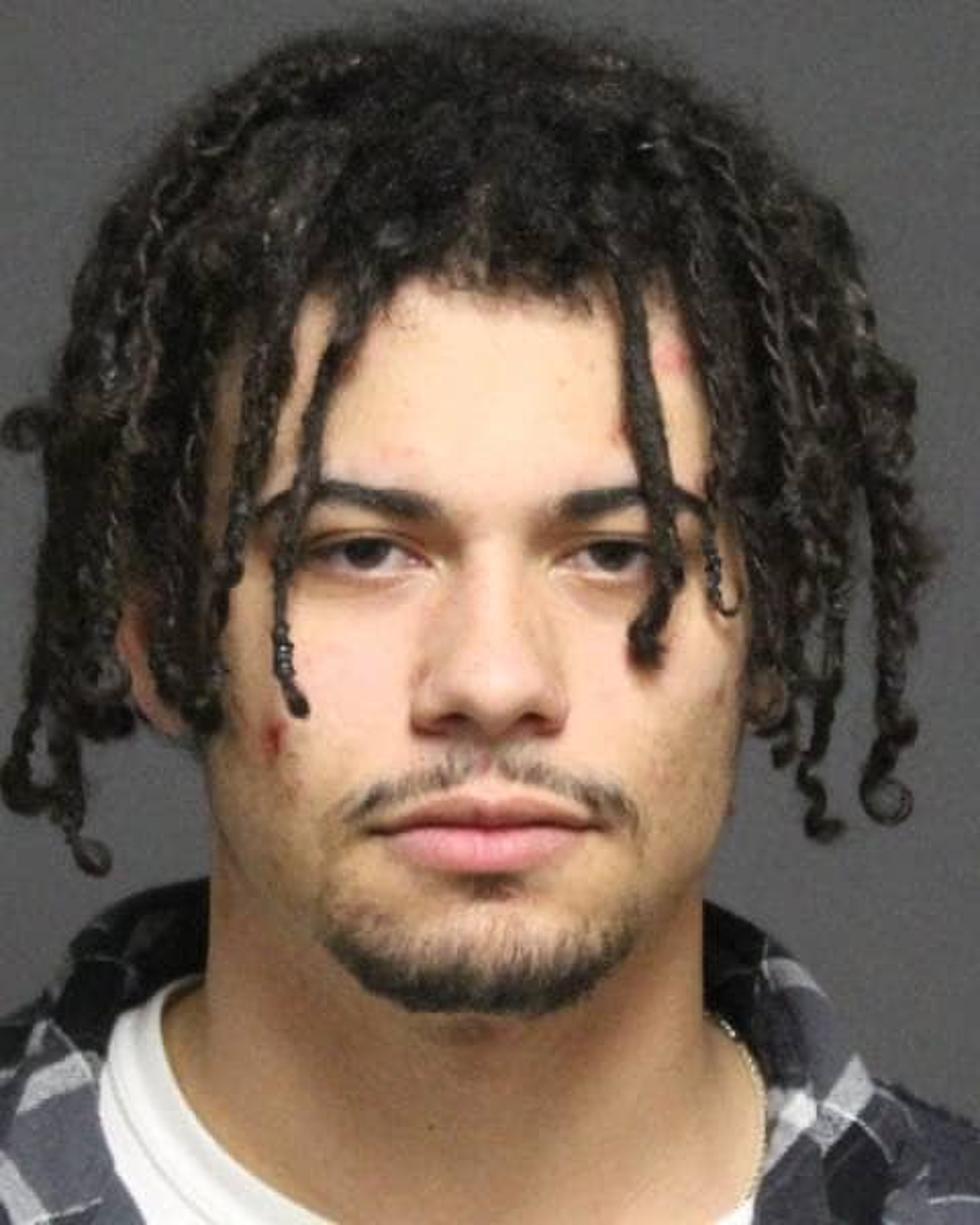 OCSO: New Hartford Man Pointed Gun At Undercover Investigator
Jayden Angleton, photo provided by Oneida County Sheriff's Office
A New Hartford man is being held in the county jail after allegedly pointing a gun at an undercover sheriff's investigator.
Oneida County Sheriff Rob Maciol says Jayden Angleton and the undercover investigator were traveling in separate vehicles on Burrstone Road in the city of Utica when Angleton allegedly pointed the weapon at him. The investigator then followed Angleton's vehicle and initiated a traffic stop soon after.
Officials say the 21-year-old suspect tossed his gun out the window before being pulled over, and the weapon was ultimately recovered a short distance from the vehicle.
Angleton did not have a New York State Pistol Permit for the 10mm glock handgun, Maciol said. He's now facing felony level charges of criminal possession of a firearm in the second degree and criminal possession of a weapon. Angleton was hit with an additional misdemeanor charge of menacing and is being held in the Oneida County Jail on $5,000 cash bail or $15,000 bond.
[AUTHOR'S NOTE: This post is for informational purposes. The information provided within was provided publicly by law enforcement. Any charges or accusations of wrongdoing mentioned in the article are only allegations and the reader is reminded that all persons are innocent until proven guilty in a court of law.]
World's Largest Dish of Pasta, and a Wedding - Utica, NY, Feb 14, 2004
The Guinness Book of World Records affirmed in 2004, that the World's Largest Dish of Pasta was made in Utica, NY with the Keeler Show. Now with WIBX, Keeler worked with Tony's Pizzeria and other to create a dish of pasta weighing over 7,000 lbs. and the event included an actual wedding. The dish of pasta weighed 7,355 lbs. (3,336 kg) and lasted in the Guinness Book for several years. The dish was assembled and the wedding was held at Sangertown Square in New Hartford, when Keeler was hosting a 6 night a week television show, The Keeler Show, on FOX 33 TV in Utica and FOX 68 in Syracuse.
New Photos of the new Downtown Utica Wynn Hospital (February 2023)
Just eight months before it's scheduled to open, MVHS officials took WIBX's Bill Keeler and Jeff Monaski, along with Photo Journalist Nancy L. Ford through the new Wynn Hospital in Utica. The new downtown hospital is expected to open in November.
AquaVino Restaurant and Bar Opens in New Hartford. Check Out These Amazing Dishes
One of Utica's most popular restaurants has just moved into the former Outback Steakhouse in New Hartford. The new restaurant has an awesome menu featuring great food and drink. Check out these dishes we enjoyed during the soft opening.