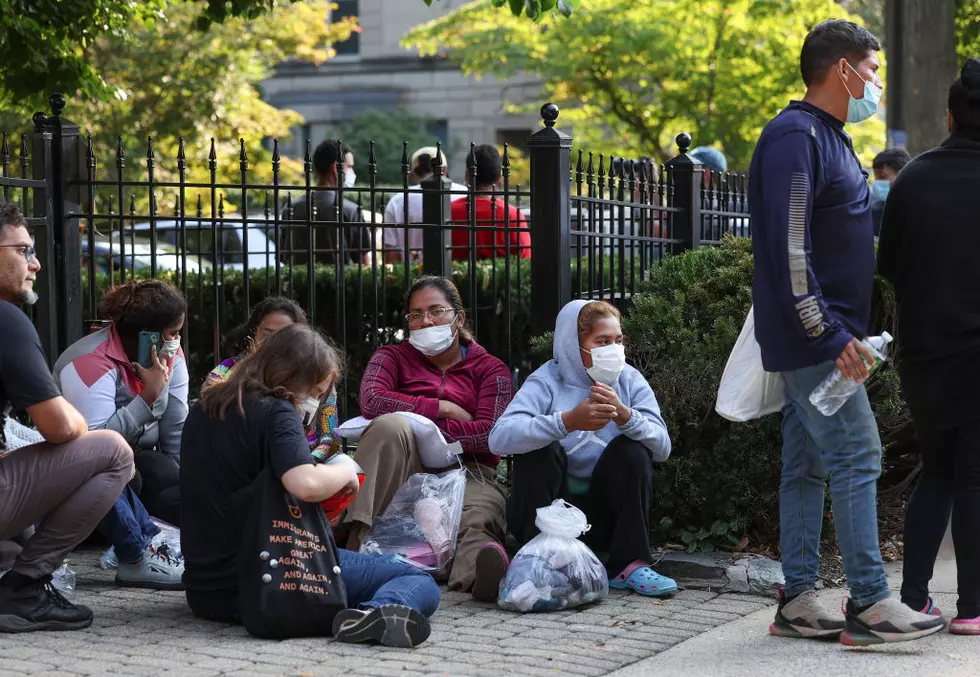 Picente: New York's 'Bait and Switch' With Homeless and Migrants
Getty Images
Oneida County Executive Anthony Picente is taking action to derail what he calls a 'bait and switch' by New York City Mayor Eric Adams and Governor Kathy Hochul in regard to the ongoing migrant crisis that is overwhelming the Big Apple.
Adams has announced a voucher program being offered to any homeless individuals in the five boroughs of NYC that would cover 70% of their rental costs of five years, if they agree to move to Upstate New York.
Picente, though, has now signed an executive order banning Oneida County businesses, individuals, and entities from accepting such vouchers without approval from the county. In May he signed a similar executive order prohibiting the relocation of migrants in this way.
The bait and switch comes into play as he describes, as instead of sending migrants Upstate, Adams is now looking to keep the migrants and the send the homeless.
"What about medical, what about mental health services, education, food and clothing and other needs that they have? Our social services department would be responsible for covering all of those other costs," he said, regarding the daily needs of homeless or migrants.
Watch Picente press conference on his new emergency order and the migrant crisis effecting New York City here.
We already have a capacity issue in meeting the needs of the homeless in our community, he explained. "It's not okay for us to have a capacity issue, but it's okay for New York to have a capacity issue?", Picente asked. He called it a blatant excuse to move the overcrowding problem out of New York City. "Stop the nonsense," he said, calling for both Adams and Hochul to seek relief from the federal government.
"What you're doing with people, what treatment you are giving them is humane. We're trying to protect that we are responsible for," he added.
As condition for granting the authorization, Oneida County must first be given the opportunity within 30 days to provide an equivalent rental voucher to a client of its Department of Family & Community Services who seeks housing or shelter, before seeking to accept a voucher from New York City. New York City must also be required to be a non-tenant party to the lease and pay all of the voucher recipient's social and educational services and other associated governmental costs, according to a release from his office.
Violators of Picente's emergency orders would be guilty of a Class B misdemeanors and face a civil penalty of $2,000 per day, he said.
The Top 25 Most Baffling UFO Sightings Reported in New York This Year
When residents of the Empire State spot something unexplainable in the skies, they report it to
the National UFO Reporting Center
. There's been about 80 new sightings so far in 2023 that raised a few hackles.
NUFORC does investigate what people saw to determine if they actually witnessed alien activity or something else. Oftentime, these reports turn out to be false flags. For example; someone from NYC reported seeing a strange, square-like object in the sky on July 22. They provided a photo to NUFORC, who then ruled the person saw an "advertising banner behind a private aircraft."
However, there have been several creepy reports that couldn't be brushed off with a logical explanation. And some of these reports had photo or video evidence attached.
Scroll through New York's top 25 weirdest sightings of 2023.
Which Dog Represents Your Central NY Hometown?
Every city and town in Central New York has a dog breed that perfectly matches its personality. What is your hometown's true dog identity?
Central NY is unique -- in that every city seemingly has its own unique personality and vibe. I recently moved to the area from Connecticut and have made a point to visit as many places as possible.
What strikes me most is that every city and town feels very different from one another. They're not defined by their local attractions, but their overall character.
And that got me thinking: Could I find a dog breed that could perfectly represent each and every city? The answer is an obvious yes.
So buckle up and stretch out your scrolling finger to enjoy the dog slideshow.
The Many Intense Faces and Expressions of FDU (Iona) Head Coach Tobin Anderson
Anderson who was an assistant coach at Le Moyne, and head coach at Hamilton College in Clinton, NY shocked the basketball world with 2 wins in this year's NCAA Tournament as the FDU head coach. Anderson is emotional and a man of many expressions while barking out inspiration and instructions to his FDU Knights. Anderson accepted the head coaching job at Iona on Tuesday, March 21, 2023.