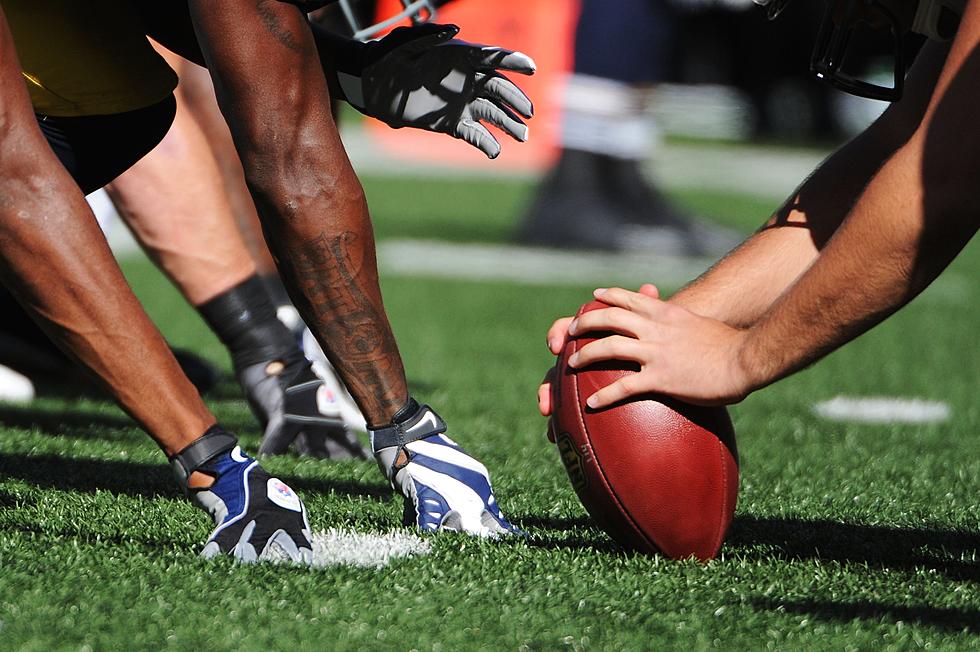 Who's Right, Suspended Quarterback or CNY High School? (Opinion)
Al Bello, Getty Images
The Section III High School Football playoffs were held this past weekend at the JMA Wireless Dome, and one school is in the midst of a deep controversy. It's a topic worth discussing for all of us because of the difficulties schools all over seem to be having today when it comes to student behavior, consequences, and parental interference.
Let's start with a little background information.
Cicero-North Syracuse (CNS) High School quarterback Jaxson Razmovski was suspended by the high school last week which meant he couldn't play in Sunday's championship game against Christian Brothers Academy (CBA), according to Syracuse.com. Meanwhile, Head Coach Dave Kline, who disagreed with the school's decision, also resigned as head coach before Sunday's game, according to the newspaper.
There were conflicting reports that Razmovski's suspension was in regard to a vaping incident, however the student's mother, Erin, told Syracuse.com that the punishment was not over vaping. She also said her son's rights to due process were denied, and as a result they're contemplating a lawsuit, according to the newspaper. The school district has not acted on requests for a comment.
Meanwhile, CNS lost their game to top-rated CBA on Sunday, 34-7, complicating matters even more because there are those who believe the final score would have been much different had the team's starting quarterback and head coach been available for the game.
So, who's right and who's wrong?
The problem with this situation is the school must maintain the student's privacy, making it impossible to explain their reasoning and defend their decision. Furthermore, based on interviews given by the family, we have no idea what the student quarterback is accused of - and what he did or didn't do - let alone whether or not he was denied due process.
Neither Coach Kline or the family has revealed what the quarterback was accused of, just that they told Syracuse.com it wasn't a vaping incident. The fact is, the family could reveal what their kid was accused of and they could also give specifics as to why they feel he didn't deserve to miss the big game.
If the family does sue the district, it's possible the details of the case will be made public, but until then, it's worth looking at an issue like this from a hypothetical standpoint, because student behavior and sensible disciplinary measures are at issue inside schools across New York.
So, schools all over the state have been faced with similar situations where disciplinary policy overlaps with a major sporting event. Many have seen cases where public opinion concludes that schools might have "softened their disciplinary stance" because of a big game and an important player. People often ask, why punish the rest of the students by disallowing the "star athlete" to compete? Keeping the star out of the game could mean a loss for all of the athletes.
The Moral Dilemma
I'm of the belief that rules are rules and ultimately, when we "go easy" on one student because of the role they might play on a team during a big game, we're actually setting that student up for failure in the much bigger game of life. It's also opening up a dangerous can of worms. Adults are faced with punishment every single day in our communities and we don't brush it under the carpet because they're in the middle of a big project at work. I understand there are those cases where it seems like special accommodations were offered to someone because of their position in the community, but there are plenty of other examples where those with "community clout" received no special treatment at all. In fact, sometimes they get more attention in the media because of who they are.
Due Process
Every person attending a school in America is indeed, entitled to due process under the U.S. Constitution, even though they're under-age in school. The 14th Amendment guarantees that everyone be treated fairly by those in positions of authority - which includes law enforcement - as well as, school administrators.
Here's a scenario to consider. Let's say a star athlete breaks a rule at school, and a kid who doesn't play sports breaks the very same rule under the same circumstances - and the athlete gets leniency because of a big sectional football championship game - while maybe a year prior, the non-athlete faced the standard punishment. Guess which student was just denied their due process? I'm pretty sure, the non-athlete could have a case against the district. Due process is all about being treated fairly, like everyone else.
When I was a Kid I walked to School - and it was Uphill all the Way
There was a time in this world (according to our parents) when a kid would get in trouble at school, and then would face even more trouble at home after the parents found out. I'm sure some of this story has been exaggerated a bit over the years, but it does seem like parents had the school's back a lot more, years ago. It's also a fact that learning about consequences when we're young, seems to help us define our behavior when we're older - older and hopefully much wiser, when the stakes are definitely far greater.
Opinion. Bill Keeler is the Host of First News Keeler in the Morning on WIBX
Utica Police Officers working Downtown Utica in the 40s and 50's
Utica Police officers were out patrolling Downtown Utica "back in the day" See if you can guess the locations from the 1940's and 1950s.
Gallery Credit: Jim Rondenelli
Utica's Chicken Riggies Dish Wasn't Invented in Utica? Say It Isn't So.
The now-famous Utica Chicken Riggies recipe has taken on a life of its own. The dish is now found well outside the Utica-Rome area and it's getting more and more popular as word spreads around the northeast. While there are many variations of the dish today, there's still only one original recipe. So, who created the first "Riggies" recipe and where did it really originate.
Gallery Credit: Bill Keeler