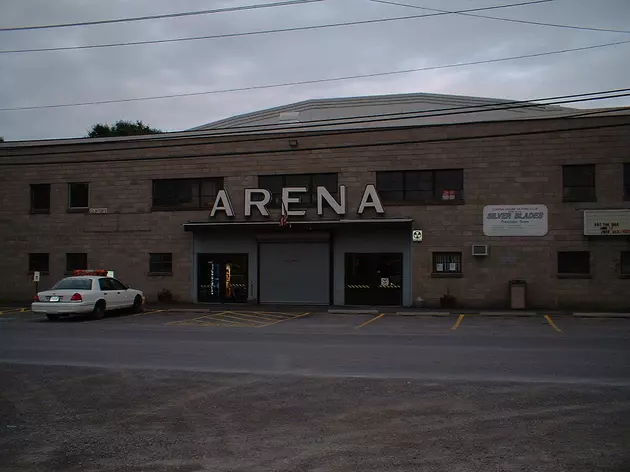 Clinton Arena Gets Hockeyville Cash, But, NHL Game Will Probably Be Held Here…
On Saturday, the NHL announced Clinton Arena as this year's Kraft Hockeyville winner, which results in $150,000 in upgrades to the legendary arena; as well as the chance to host an upcoming pre-season NHL game in September.  But, the pre-season game probably won't be played at the Clinton Arena due to it's size; instead, it will most likely be played at the Adirondack Bank Center at Utica Memorial Auditorium in Utica, according to Clinton representatives Andy Burns and Patty Louise.
"The Clinton Arena is probably not large enough to handle an NHL game," Burns told WIBX's Keeler Show. "Ultimately, it will be the NHL's decision," added Louise.  Burns and Louise also confirmed that a portion of the $150,000 Clinton Arena will receive from Kraft will go towards repairing the roof of the arena, which originally opened in 1949 and was rebuilt after a fire in 1954. The Clinton Arena was the home of the Clinton Comets of the Eastern Hockey League from 1954 until 1973.  It is also home to the Clinton Figure Skating Club, one of the oldest clubs in the country, established in 1948.
"If you played youth hockey, you played at the Clinton Arena," Utica Comets President Rob Esche told WIBX on Friday. "It means a lot to us."  The Utica Comets of the American Hockey League revived the Comets name when they affiliated with Vancouver and relaunched pro hockey in the city in 2013.
The Clinton Arena was one of four national finalists in the 2018 Kraft Hockeyville competition, The public was encouraged to vote from Friday morning at midnight until Saturday morning at 11. The winner was announced during an NHL playoff game, televised on NBC Saturday afternoon.
Listent to the complete interview with Burns and Louise.