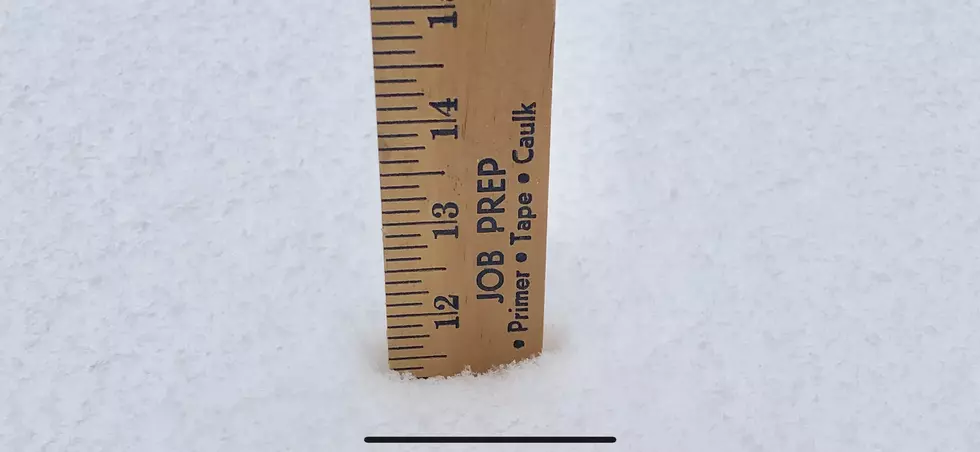 March Coming in Like a Lion with More Snow and Cold Predicted
The first winter snow storm of 2019 dumped about a foot of snow on the Mohawk Valley. January 20, 2019. Photo by Bill Keeler/TSM
The winter storm that's wreaked havoc around the country and on the east coast to start off March will only bring a little snow our way on Tuesday; however, there's another 'snow' event brewing that could be significant, according to the National Weather Service.
(updated 3:50 P.M. TUES., 3/5/19)The National Weather Service has issued a Winter Weather Advisory due to lake effect snow beginning Tuesday night and continuing into Thursday morning for Southern Oneida County. The 'advisory' alert issued claims conditions are possible for lake effect snow totaling 2 to 5 inches in the Greater Utica-Rome area and 4 - 8 inches west of Rome.
...WINTER WEATHER ADVISORY IN EFFECT FROM 11 PM THIS EVENING TO 10 AM EST THURSDAY... * WHAT...LAKE EFFECT SNOW EXPECTED. TOTAL SNOW ACCUMULATIONS OF 2 TO 5 INCHES EXPECTED EAST OF ROUTE 26, INCLUDING UTICA, ROME AND BOONVILLE. TOTAL SNOW ACCUMULATIONS OF 4 TO 8 INCHES EXPECTED WEST OF ROUTE 26, INCLUDING VERONA, SYLVAN BEACH AND CAMDEN. * WHERE...NORTHERN ONEIDA AND SOUTHERN ONEIDA COUNTIES. * WHEN...FROM 11 PM THIS EVENING TO 10 AM EST THURSDAY. THERE WILL BE ONE ROUND OF LIGHT TO MODERATE SNOW TONIGHT INTO EARLY WEDNESDAY MORNING. THEN, A LULL IN THE SNOWFALL IS EXPECTED MID MORNING INTO EARLY WEDNESDAY AFTERNOON. PERIODS OF LAKE EFFECT SNOW RETURN LATER WEDNESDAY INTO WEDNESDAY NIGHT. THE SNOW TAPER OFF TO SNOW SHOWERS BY THURSDAY MORNING. * ADDITIONAL DETAILS...PLAN ON SLIPPERY ROAD CONDITIONS. THE HAZARDOUS CONDITIONS COULD IMPACT THE MORNING OR EVENING COMMUTE. WIND CHILL VALUES 0 TO 10 BELOW. PRECAUTIONARY/PREPAREDNESS ACTIONS... A WINTER WEATHER ADVISORY FOR LAKE EFFECT SNOW MEANS LAKE EFFECT SNOW IS FORECAST THAT WILL MAKE TRAVEL DIFFICULT IN SOME AREAS. USE CAUTION WHEN TRAVELING. THE LATEST ROAD CONDITIONS FOR THE STATE YOU ARE CALLING FROM CAN BE OBTAINED BY CALLING 5 1 1.
Eyewitness News Chief Meteorologist Rachel Witter says the heaviest of the lake effect snow will be west of Utica; however, in persistent squalls, the Utica area could still see significant accumulation.
The snow event is expected to be intensified this week by unseasonably frigid temperatures which will last through Friday, with more March-like temperatures in the 30s are expected.
Check back for updates.