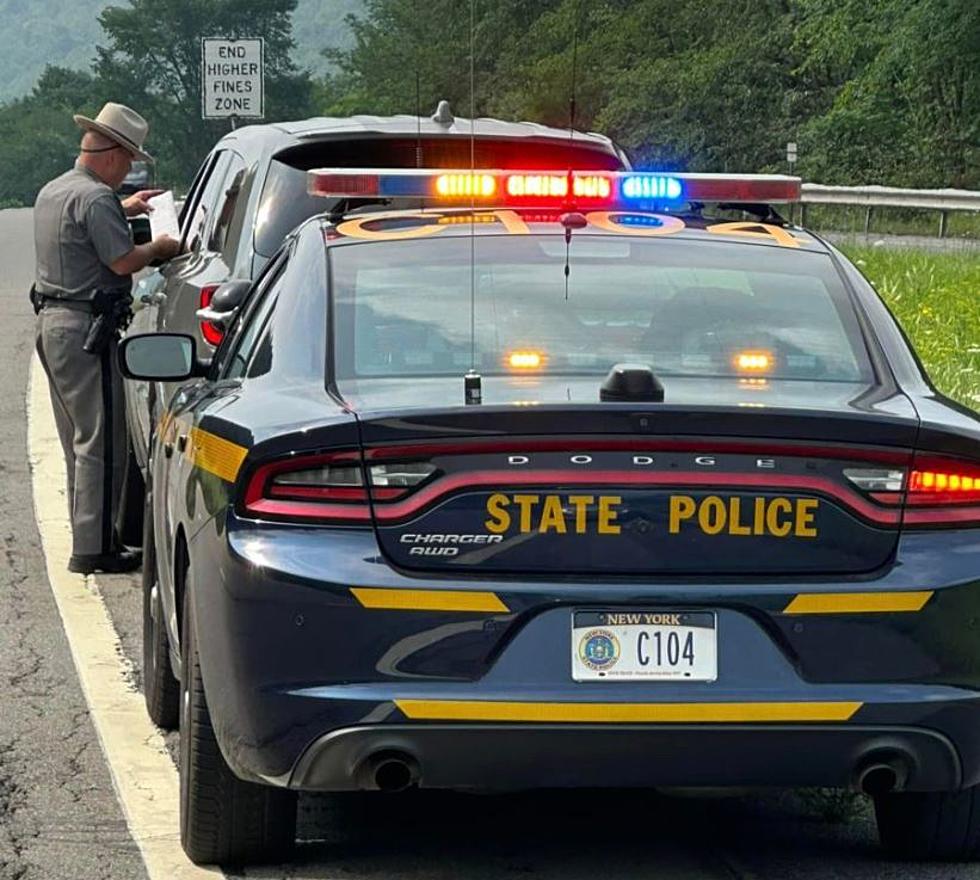 Troopers Trick Drivers – How New Yorkers Can Avoid Big Fines On The Road
NYSP Troopers ticketing motorist - via NYSP News
An expensive ticket with your name on it is lurking just beyond those orange cones and road crews that can be found scattered across New York roads.
New York drivers are paying double for speeding tickets and face double-points on their license after not taking serious multiple warnings and ignoring numerous tragedies that have unfolded over many years involving construction workers being rundown on the road.
Despite signs informing drivers they face double fines and points in road construction zones, some motorists aren't slowing down and are breezing through work areas. In an effort to make those work zones safer for road workers, New York State Police are donning orange hard hats and yellow reflective vests, with radar guns in hand.
They disguise themselves as road workers and take aim at oncoming traffic. It's called Operation Hard Hat. To get an idea of what we're referring to, take a look at the photos below.
This week, Troopers conducted another of these Operation Hard Hat details alongside a road crew working on State Route 374 in the Clinton County town of Dennemora.
Not only do they target speeders, but unsafe, aggressive and distracted motorists.
The detail on Tuesday of this week netted 31 total tickets, police said:
Speeding- 5
 Cell phone- 4
 Seat Belt- 8
Non-moving violations- 8
 Other moving violations- 6
Additionally, two commercial vehicle inspections resulted in seven more tickets, Troopers said.
State officials are again reminding drivers to slow down and obey speed limit signs in work zones, when possible, move over to another lane. And stay off the cell phone.
"Everyone working on the side of the roadways deserve to get back home safe!", police added.
Stay At This Stunning Affordable Airbnb In Utica New York
Looking for a stunning place to stay right here in Utica New York? You'll love this Airbnb listing, and you'll love the price.
New York State's Ultimate Pizza Trail With 62 Stops
We decided to have
ChatGPT
, the magic A.I. of the internet, pick one pizza place in every single county in New York State. We asked ChatGPT to create the ultimate road trip choosing places that were historic, well reviewed, and very popular. Let us know on our station app how ChatGPT did. Here's that list of 62:
New York Lottery Scratch Off Tickets With The Most Number One Jackpots Remaining
Here in New York, the time is now to start searching for some amazing jackpots. There are all sorts of different kinds of Scratch-Off tickets offered by the New York Lottery.
While looking at the latest weekly roundup for grand prizes, we counted 59 different tickets that have their grand prizes still on the market. The report was last updated on July 31st 2023, as we publish this article.