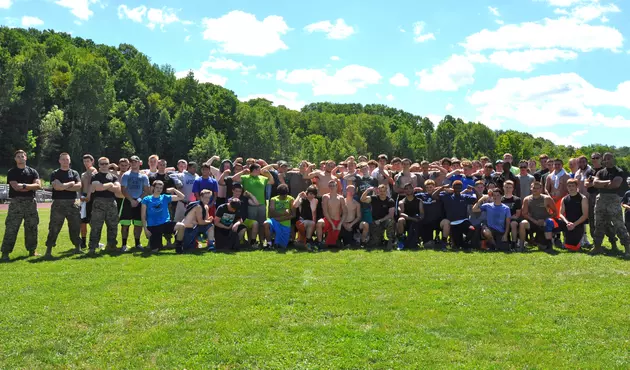 U.S. Marines Take Over CVA Thunder Football Practice
Photo Courtesy Central Valley Academy
The Central Valley Academy football team's practice routine looked a little bit different last week when a group of Marines took over for the coaches on August 23.
Led by Commanding Officer Maj. Mastin Robeson, a team of nine regional Marine recruiters pushed the CVA players through a three-hour practice focusing on leadership and teamwork - fundamental qualities of life that Maj. Roberson said are important on and off the field.
Building on the idea that football games are won on the practice field, he attempted to instill in the players the idea that individuals don't win football games - it takes an entire team.
Maj. Roberson stressed the ability to become one by setting aside their own pride and ambition for the good of the group, something that has been a slight challenge for the team since being formed when Ilion and Mohawk schools merged in 2013.
In fact, the idea for the Marine visit came from local Marine recruiter Sgt. Claudio Rodriguez who recommended CVA for the seminar.
Rodriguez said Central Valley Academy was a great school with a great football team, but some of the old Ilion-Mohawk rivalries were still present. He saw the leadership seminar as a way to help the Thunder come together and recognize their potential as a united group.
"[The practice] has the potential of helping us set aside the 'me' and focus on the team. If that happens, this could be a great season," Head Coach Jon Cole said. "I hope what they learned today will carry over into our practices and the entire football season."
The Central Valley Academy Thunder varsity football season opens Friday September 2, at 7:00 at South Jefferson High.