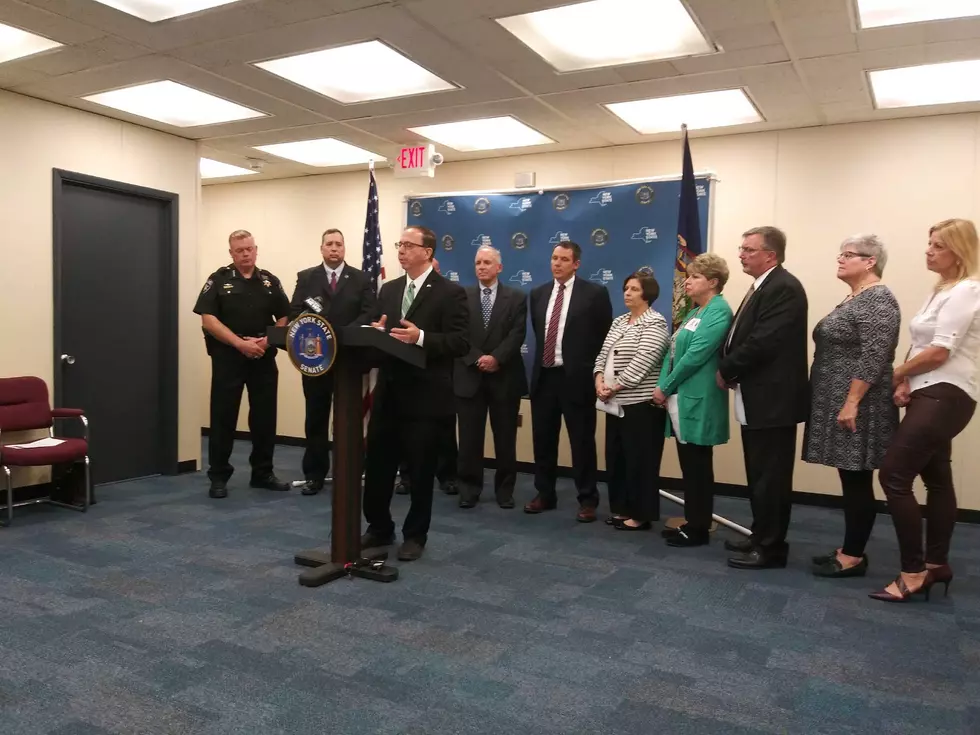 Upstate Leaders Have Serious Concerns, Say NY is Playing Politics with New Reforms, Laws
Upstate officials express concerns with new laws, reforms taking effect in New York. (Dave Smith, WIBX)
A group of elected and other local officials are sounding the alarm bell about changes coming to New York in 2020 and they say those changes will be detrimential, especially here in Central and Upstate New York.
They include some changes recently passed or soon to effect, including reforms to the criminal justice system, the 'Greenlight Bill', distribution of Aid and Incentives for Municipalities (AIM) and burdoning local government with more unfunded mandates like early voting, which began this past weekend in New York state.
The group included NYS Senator Joe Griffo, Assemblyan Brian Miller, officials from the Oneida, Madison and Lewis County District Attorney's Offices, Oneida County Sheriff Rob Maciol, who is also the president of the NYS Sheriff's Association, Lewis County Sheriff Kevin Wells, Oneida County Clerk Sandra DePerno - also president of the NYS Association of the Counties - and Ann Rushlo of the Mohawk Valley Association of Realtors.
Criminal Justic reforms including the State Budget that provide for new measures, such as an end to cash bail for everything shy of the most severe violent felonies, that will tie the hands of the presecutors and law enforcement officials who work tirelessly to pursue just for victims and to keep communities safe
Legislation brining New York City-style rent control and regulations to the entire state. The statewide rent control will create bureaucratic hurdles to making necessary improvements to existing housing units, could lead to blight because landlords may have difficulty with the upkeep of their housing unity and could depress local housing markets
Placing costly new mandates on counties and local goverments for iniatives such as early voting
Changes to the way Aid and Incentives for Municipalities (AIM) funding is distributed to municipalities. As a result of the state budget passed earlier this year, counties will have to pick up the cost of AIM and pay for it by splitting $160 million in revenue for a new internet sales tax
Driver's licenses and free college tuition for illegal immigrants
The group is asking the public to call, email and write Governor Andrew Cuomo, Senate Majority Leader Andrea Stewart-Cousins and Assembly Speaker Carl Heastie to express their displeasure with the upcoming changes.
While most of the above changes were just approved by the state legislature earlier this year, the group is asking for a special legislative session to possibly change or block some of the new laws and reforms.