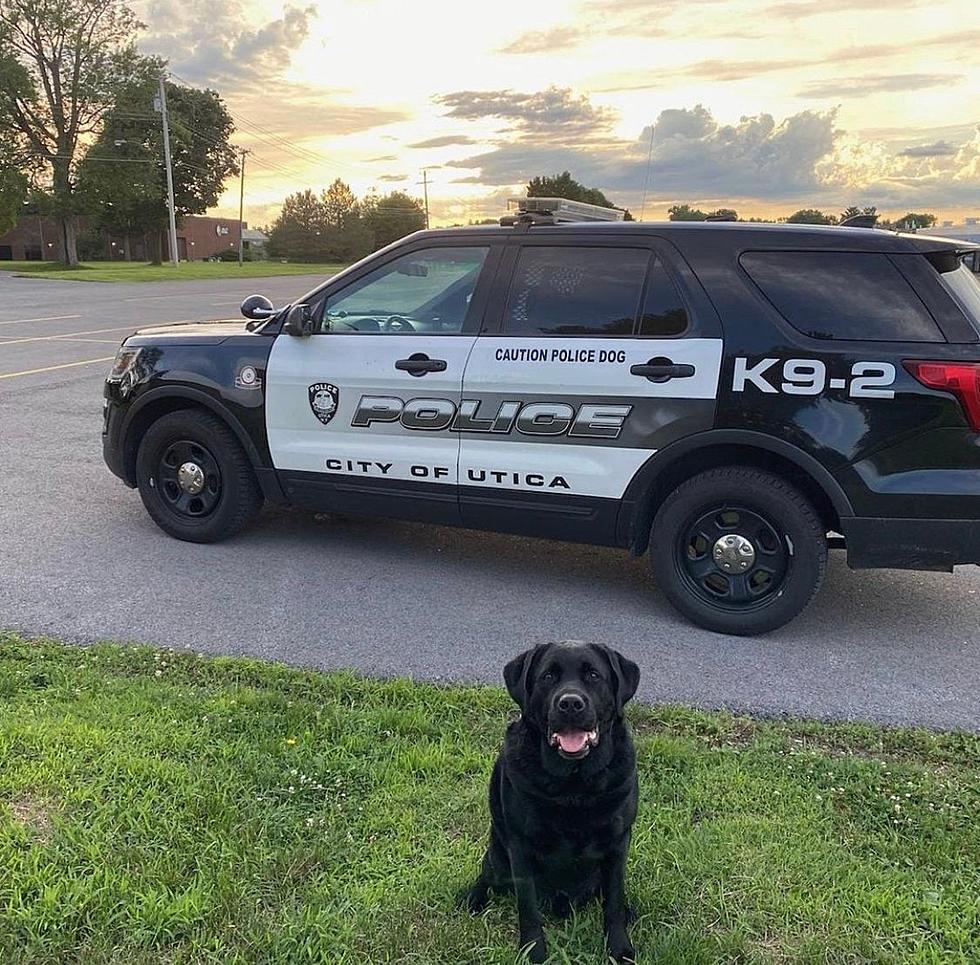 Utica Police Department Mourning the Loss of a Former K9 Member
Photo Credit: Utica Police
They say a dog is a man's best friend. That couldn't be more true when it comes to a police officer and their K9 companions.
The Utica Police Department in mourning the passing of one of their longtime members, Wolf.
Remembering Wolf
Utica Police officials say from 2016 to 2022 Wolf served the department proudly and was a dedicated member of the force. His role for Utica Police was predominantly bomb sniffing and conducting safety sweeps for big events.
One of the most notable assignments ever given to Wolf was security detail and preparation for the visit from President Donald J. Trump, who while in office came to Hotel Utica.
That was only one of the many events in which Wolf was tasked with the safety of those in our community and beyond.
Wolf's main handler was Patrol Officer Sean Bubnis.
Police say, "K9 Wolf had four successful tracks and apprehensions in Utica, New Hartford, and Whitestown." The department thanks Officer Bubnis and Wolf for their dedicated service.
Wolf will be missed by many in the department, especially Bubnis.
The Important Role K9 Officers Play
Sgt. Chris Faniglula is a former K9 Officer and handler.
He spoke to WIBX about the important role these K9 members play in the department, but also in the life of the handler.
When it comes to duty Faniglula says, "When my K9 partner did what he was trained to do in a real life situation, it was the most rewarding thing I've done in law enforcement."
There is a lot of training that goes into the K9 program for both the dog and the officer.
Faniglula says his former K9 partner, Rex, was more than just a partner at work:
My K9 partner was part of my family. But when he went to work, he was my partner and had my back. It was like having a family member as a partner.
Faniglula and Rex were also assigned to the security detail for President Trump's visit to Utica.
We all love our furry friends, but for Utica Police and other law enforcement agencies that bond means so much more.
Condolences go out to the whole Utica Police Department family. Everyone who has lost a fur baby knows what that feels like.
Rest easy sweet Wolf and thank you for your service.
Which Dog Represents Your Central NY Hometown?
Every city and town in Central New York has a dog breed that perfectly matches its personality. What is your hometown's true dog identity?
Central NY is unique -- in that every city seemingly has its own unique personality and vibe. I recently moved to the area from Connecticut and have made a point to visit as many places as possible.
What strikes me most is that every city and town feels very different from one another. They're not defined by their local attractions, but their overall character.
And that got me thinking: Could I find a dog breed that could perfectly represent each and every city? The answer is an obvious yes.
So buckle up and stretch out your scrolling finger to enjoy the dog slideshow.
Gallery Credit: Megan
Firefighters Work Together to Rescue Dog Stuck on Frozen Ice
Three emergency response teams in Onondaga County worked together to rescue a dog that became trapped on the ice after chasing some geese.
Gallery Credit: Credit - Polly McAdams
Dog Rescued At New York State Park After 5 Days Of No Food Or Water
Gallery Credit: Vinnie Martone
Dog Survives Fall Into Letchworth State Park Gorge
Gallery Credit: Cindy McMullen