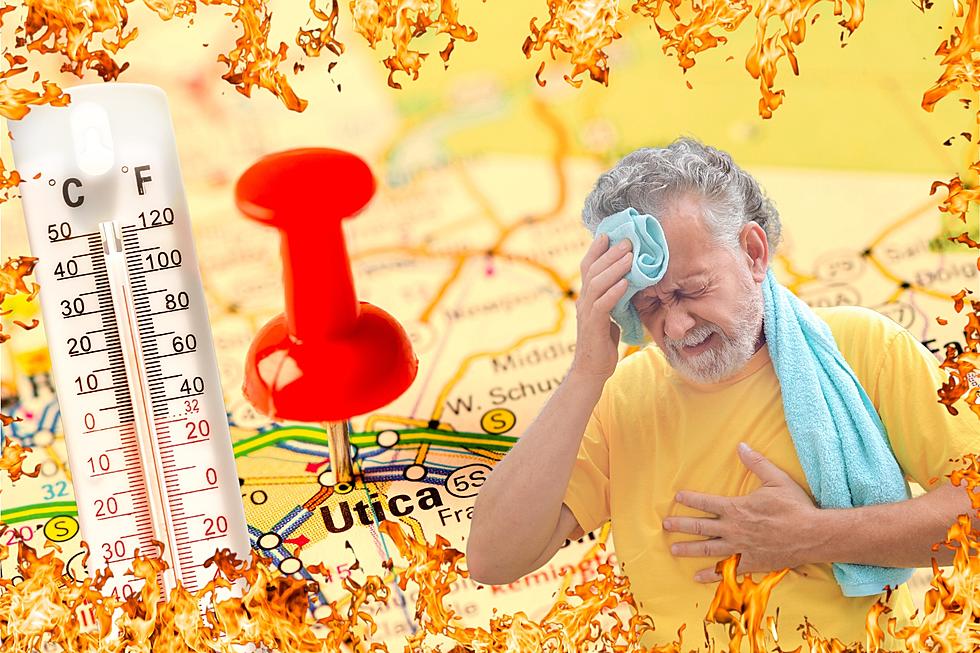 Beware the Devastating Summer Heat in Central New York
Canva
The first heatwave of the summer strikes Central New York this week. Here's how you can stay safe from these dangerous temperatures.
Scorching hot temperatures and high humidity will blanket Central NY into next week. So, if you began packing away your summer clothes - you might want to dig a few out because you are going to need them.
How hot will it get?
Forecasters predict the mercury in some Central NY places will rise above the 90-degree mark through Wednesday.
But it will feel even hotter thanks to the oppressive humidity that's rolled into the region, which could push the "feels like" temperature even higher.
The heatwave could extend into the weekend, with uncomfortable temperatures expected to linger into Sunday.
The heatwave is expected to worsen as the week drags on, with the heat index expected to rise into the mid 90s.
Current predictions call for near-record high temperatures, with Wednesday expected to be the worst day.
Wednesday's heat index is expected to crack 99-degrees, which has experts urging residents to take extreme caution should they need to be outside for extended periods of time.
Heat advisories have also been put in effect in some parts of the state and cooling centers have
Meteorologists also say don't hold your breath for rain this week, which would bring much-needed relief. If anything, the forecast currently estimates a 10% chance of rainfall on Saturday.
Still, there is slight optimism that Central NY will enjoy a small break over the weekend. Weather officials are tracking a system of gusty storms that could hit the area and push down temperatures.
We'll have a clearer picture as we creep closer to the weekend.
Be aware of heat stroke
A major reason why experts are sounding alarm over the heat wave is because the weather can pose a serious risk to one's health.
Heat stroke is serious and dangerous. It happens when your body loses its ability to regulate its own temperature, which causes your internal temperature to rapidly rise.
Symptoms include dizziness, throbbing headache, nausea, rapid and strong pulse, fainting, and a loss of consciousness.
Heat stroke can lead to serious complications -- even death -- if it isn't treated immediately.
The best way to prevent heat stroke is to drink plenty of water and to stay indoors during peak temperatures. If you have to be outdoors, health officials encourage wearing light and loose clothing and to not exert yourself.
How to beat the heat
Thankfully, there are several ways to stay cool during this heatwave.
Several cooling centers will be open to provide relief to residents who might not have access to air conditioning - or just need a place to catch their breath. You can find the one closest to you by clicking THIS LINK.
You can also beat the heat by visiting a public building that has air conditioning. Before my parents sprang for central air, our go-to place was the local movie theater.
Additionally, you can wash off the sweat and grime at your local splash pad or community swimming pool. Check with your local government to find your best option.
The City of Utica has a helpful resource for locals via this website.
Also, residents in need of immediate help can dial 211 from their landline phone, or  1-800-901-2180 from their mobile, where they will be connected to the appropriate services. If you don't want to call, you can also visit the 211 webpage.
Stay cool!

Feeling The Heat? These Should Help Keep Cool
The Best Cool, Crisp, and Creative Salads to Enjoy This Summer in Upstate New York!
As the heat and mug of an Upstate New York summer descends upon us, many find the perfect way to cool off and calm down when it is lunch or dinnertime is with a... a fresh, cold salad. Here is a list of some of the best salads being served at our area's restaurants this summer!