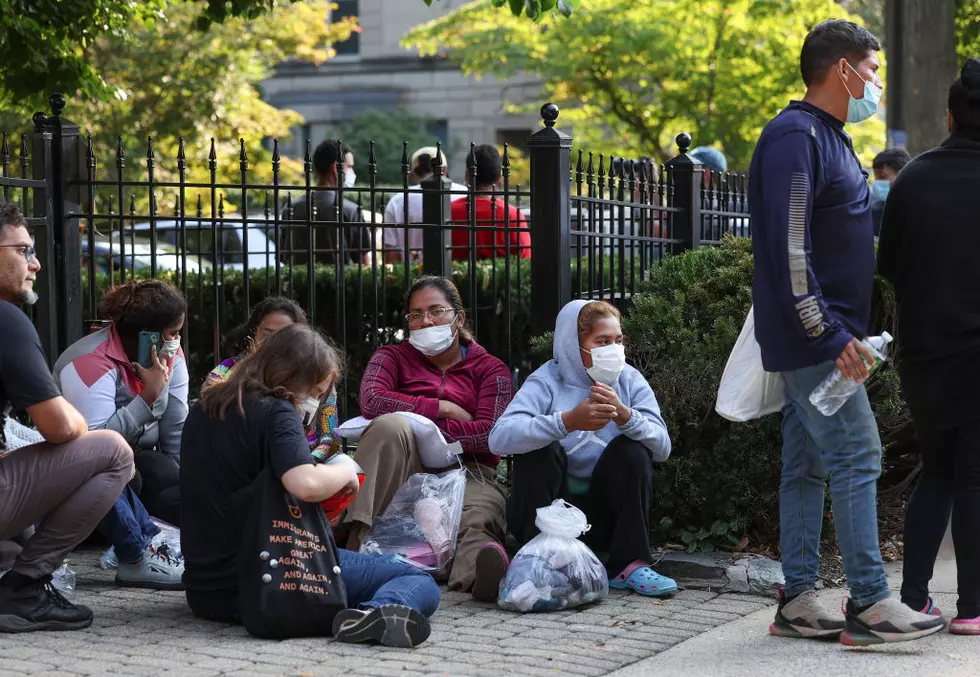 Congressman Brandon Williams Shocked after Witnessing This in D.C.
Getty Images
Newly sworn-in NY-22 U.S. Representative Brandon Williams had time on his hands last week while awaiting election of the House Speaker, during which time he saw something he described as shocking and very emotional.
Williams said he witnessed illegal immigrants last Monday being dumped off on the street in Washington D.C..
"I was just "three blocks from the Capitol, and I walked past a bus that was disgorging a bunch of what I believe were illegal immigrants. The license plates on the busses were Mexican license plates," he said. Williams told WIBX's Keeler in the Morning Show he was emotionally shaken by the visual.
"There were children desperately clinging to their mothers. There was a look of fear on every single one of them as we walked past. This was literally just three blocks from the Capitol...and the humanity of it," he said.  "We need to secure our border, but these women and children, these families were literally being dumped on the streets of Washington D.C.. maybe there's some temporary housing....but where do they go," he asked.
Williams who represents Central New York, including Utica-Rome, and Syracuse, said President Biden's visit to the border marks the first time he's visited the U.S. - Mexican line in 50 years, spanning back to when he was in Congress.
"So, this border crisis is coming literally to the doorsteps of the Capitol. I've not reported that any where else. It was very emotional to me, to see the humanness of it, and of these people," said Williams. "So maybe there's elements of this that are finally getting through to President Biden," he added.
During the interview, Williams also said he doesn't see the lengthy process (15 different votes through the week) taken to elect a speaker last week as a negative. He said he prefers a level of negotiation and pushing back and forth as opposed to a coronation which takes just a few hours. "I ask you, is it better to ride into town in a chariot or on a donkey," Williams said.
Williams was one of 10 Republicans who won in last year's November mid-term election, giving the GOP a net-gain of three seats in a state that overwhelmingly leans Democrat. It should be noted that much of the Republican gain came from Upstate, which tends to be more rural and leans Republican.
Ivana Trump
Born on February 20, 1949 in the Czech Republic, Ivana Trump passed away on July 14, 2022 at the age of 73. In a statement her children said, "Our mother was an incredible woman — a force in business, a world-class athlete, a radiant beauty, and caring mother and friend."
Jimmy Carter through the Years
James Earl Carter, Jr. was born in Plains, Georgia on October 1, 1924.
He won the Nobel Peace Prize in 2022. He served as the 39th President of the United States from 1977 to 1981. Former President Carter was also the Governor of Georgia and a state senator of his home state.
A graduate of the United States Naval Academy, Carter is also known as the first American president who was born in a hospital.
As a very young man he was enterprising, and started his own businesses early, helping to supplement his family's farm for many years.
His Vice President was Walter Mondale. One of President Carter's first duties in office was to issue Proclamation 4483 on January 21, 1977, pardoning all those who evaded the Vietnam era draft. During his Presidency, the Department of Energy and Department of Education were formed.
He has authored dozens of books. Among them are "Our Endangered Values," "Faith," "An Hour Before Daylight," and "A Full Life."
Since 1946 Jimmy Carter has been married to Eleanor Rosalynn Carter (known as Rosalynn Carter). They have four children: Amy Carter, Donnel Carter, Jack Carter, and James Carter.
Remembering Fallen Oneida County Sheriff's Deputy Kurt Wyman
A Remembrance Ceremony was held on Tuesday, June 7, 2022 at the Kurt B Wyman Law Enforcement Building in Oriskany. The Oneida County Sheriff's Deputy was killed in the line of duty 11 years ago.