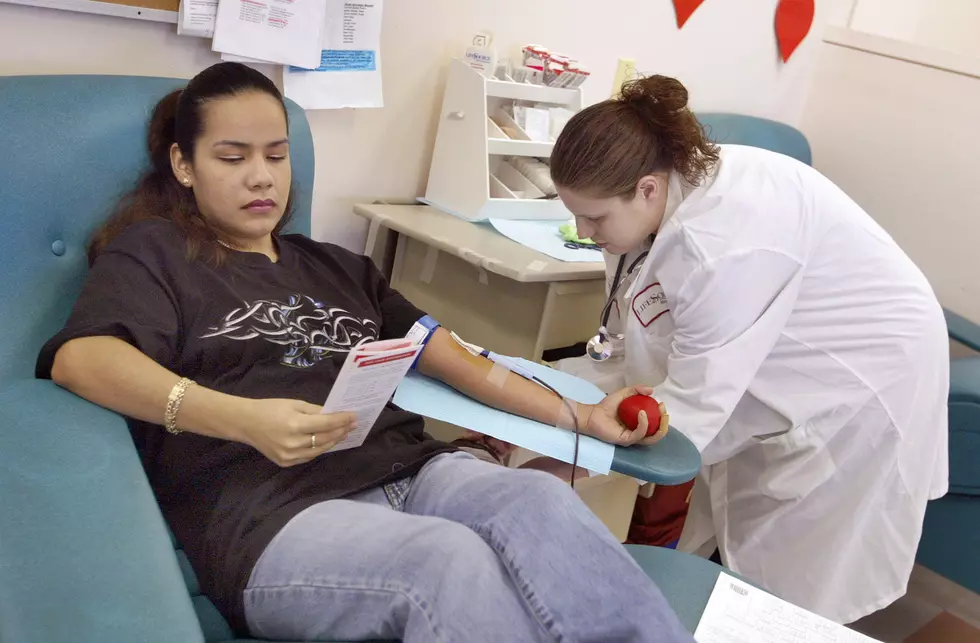 National Blood Shortage Declared by American Red Cross
Getty Images
Blood donors are desperately needed amid a critical, nationwide shortage.
Hospitals are sounding the alarm that the demand for blood is threatening their current supply. If this trend continues, staff may be forced to make impossible decisions.
The American Red Cross has since declared a national blood shortage and is urging those who are able to donate to help.
Blood Drive Today in Utica
AAA Northeast is inviting the public to participate in a blood drive today, which is being held at 430 Court Street. Doors open at 10 a.m. and the event runs through 2 in the afternoon.
Those who are healthy and able to donate are encouraged to help.
Donating blood takes roughly an hour and health experts say your donation can save someone's life.
To schedule an appointment to donate blood, you can do so by calling 1-800-733-2767 or visiting RedCrossBlood.org and enter the code AAANE.
Why Is There a Blood Shortage?
You might be thinking that you hear of a blood shortage every year, but this particular year is turning into a crisis.
As the Red Cross explains, natural disasters causes over $23 billion in damages so far this year. This includes hurricanes, heatwaves, floods and wildfires.
This has caused an increase in patients needing life-saving blood transfusions at medical centers and hospitals. At this moment, demand is exceeding incoming donations. In addition to natural disasters, the Red Cross says there is also a smaller number of donors coming forward this year.
Pairing both factors together, the Red Cross warns this is creating a perfect storm that could put even more lives at risk. It's estimated that the national blood supply has fallen roughly 25 percent since the start of August.
All Blood Types Needed
The Red Cross has since updated its site to reflect the serious nature of the shortage:
Blood donors of all blood types are urgently needed now to ensure patients at hospitals across the country continue to receive critical medical care.
Those who are able to donate are asked to make an appointment using their website tool that finds the drives closest to them.
View this post on Instagram
All blood types are needed, but there is a particular demand for A negative and B negative blood, as well as both O positive and negative blood.
Those with O negative blood have the most important blood type, as it's considered a universal donor. O negative blood has no antigens, which will not trigger an immune response if introduced to other blood types.
There are instances where patients come in that need an immediate transfusion, but they either don't know their type or medical officials don't have the time to determine it.
Because of that, hospitals always ensure there is always O-negative blood on their shelves.
How to Donate
Beyond the tools provided on the Red Cross website, there are several other ways to donate.
Those interested in giving blood can download the Red Cross app and sign up for the Rapid Pass, which is a prescreening tool that'll speed up a donation appointment by filling out the paperwork and answering necessary questions beforehand.
In all, appointments only take about 30 minutes.
As for how many times one can donate blood, it's standard that donors wait 56 days between appointments.
Those who are Power Red donors, or those who give tw units of red blood cells, can donate every 112 days.
Be sure to be plenty hydrated before donating and to eat iron-rich meals. Once you're finished with your appointment, have fun chowing down on an abundance of snacks meant to help you replenish your system.
Check out RedCrossBlood.org to become a donor.

7 Illness You'll See This Fall In New York State
These illnesses will be at their peak this fall all across New York.
Gallery Credit: Canva
10 New York State Hospitals Rank Among The World's Best
Newsweek magazine recently published its ranking of the top hospitals in the world and 10 are here in New York State. Who made this list?
Newsweek based its list of the
Top 250 hospitals on earth
based on four criteria: patient care, research, innovation, and consistency. 2023 marks the fifth year the publication put together data on hospitals from around the world. This year's data reportedly includes more than 2,300 hospitals from 28 countries, approximately 400 in the Unites states.
Here's the ones from New York State:
Gallery Credit: Dave Wheeler
10 Best Towns in in New York State for Fall 2023
We're just about at the fall season, which means festivals, pumpkins, fall foliage and more. Here are the 10 best towns for autumn in New York state.