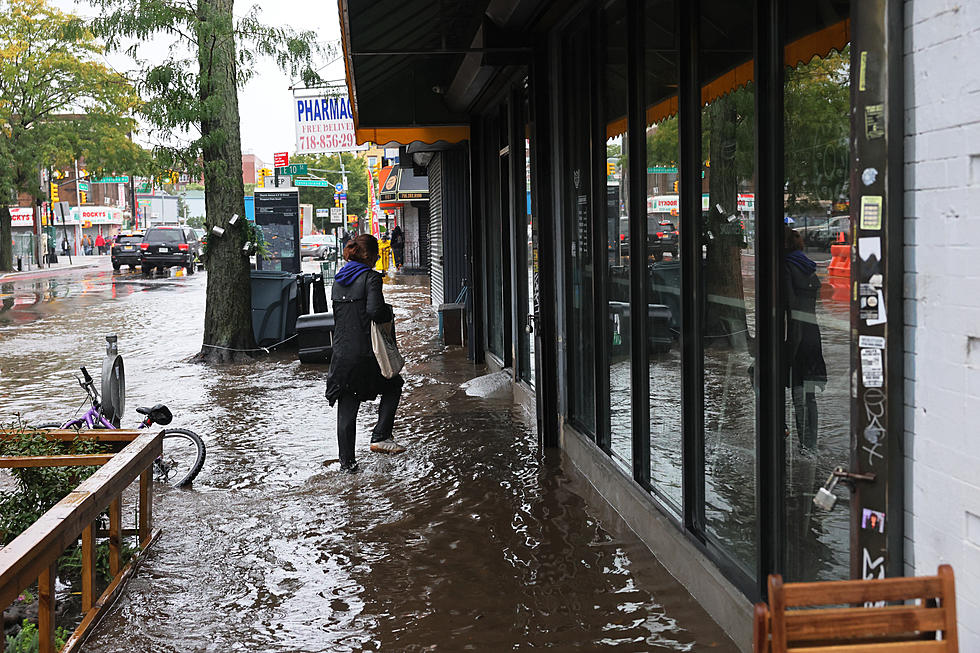 Flooding in NYC, Beautiful Summer-Like Weather On Way for CNY
NEW YORK, NEW YORK - SEPTEMBER 29: A person walks along a flooded sidewalk on Church Avenue amid a coastal storm on September 29, 2023 in the Flatbush neighborhood of Brooklyn borough New York City. Flash flooding is expected in the counties of Nassau, Queens and Kings, which includes Brooklyn, according to the state's National Weather Service office as remnants of Tropical Storm Ophelia reaches the Northeast. Gov. Kathy Hochul has declared a state of emergency for the NYC area. (Photo by Michael M. Santiago/Getty Images)
Parts of New York City were hit by heavy rains and flash flooding on Friday after heavy rains moved in and continued through the afternoon. Streets and subways overflowed with water in parts of the city creating a traffic nightmare in America's largest city.
The good news for New York City is that after heavy rain all day on Friday, and more flooding and rain into Saturday morning, the skies will start to clear through the day on Saturday and give way to a beautiful Sunday with a high of 75.
Here in Central New York, after a gloomy cool day on Friday, we are about to enter into a weather pattern that will rival the summer weather we experienced in August (which was pretty unsettled).
According to meteorologist Craig Flint of Eyewitness News, we're in for an amazing stretch of summer-like weather that's sure to confuse the tree's changing leaves.
Saturday is expected to be Sunny with a high of 75.
Sunday, more sunshine highs reaching 78.
Monday and Tuesday, more sunshine with highs ranging from 75 to 78.
Wednesday, get ready for 80 degrees and sunshine. While Thursday will be partly cloudy with highs near 80.
Friday, we'll begin to go back into reality as of right now with shows possible and highs in the mid-70s.
Flint says as of now, it looks like cooler weather will follow as we go into next weekend.
Enjoy the beautiful summer-like fall weather and stay safe this weekend.
36 Ideas to Inexpensively Make Your Backyard Feel Like a Resort
Here are some fairly easy and inexpensive ways to make your back yard feel like you're on vacation and a beautiful summer resort. If these 5 families can do this in Upstate New York, it can be done anywhere!
Gallery Credit: Bill Keeler
37 Photos from the 9/11 the Museum adjacent to One World Trade Center in New York City
I recently visited the 9/11 Museum just prior to the 20th anniversary of the 9/11 attacks. These photos are just some of the powerful and impactful moments we witnessed during our walk through.
Gallery Credit: Bill Keeler
9 Important Photos of Rep. Sherwood Boehlert Serving in Washington, D.C.
Former U.S. Representative Sherwood Boehlert passed away on Monday, September 20, 2021 following an illness. He served in Washington at a time when bipartisanship was actually possible in Congress. Here are some photos of Sherry at work, in Washington, D.C..
Gallery Credit: Bill Keeler / Getty Images