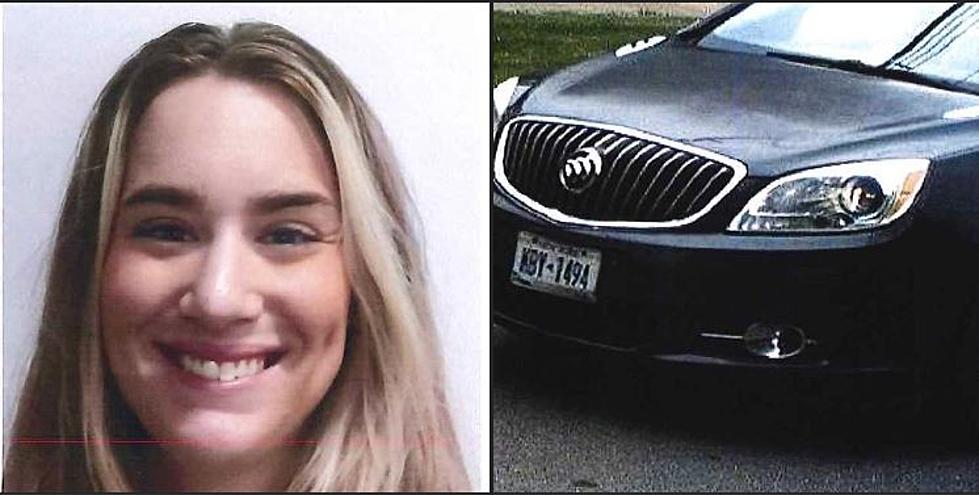 Marcy Woman Reported Missing: Deputies Attempt To Locate
via Oneida County Sheriff's Office
UPDATE: On Friday evening (October 6), Oneida County Sheriff's Deputies said they had located Madelyn Fiore of March. The woman was found safe, but was taken to an area hospital for an evaluation, officials said.
--Original Story---
The Oneida County Sheriff's Office is seeking help from the public as the attempt to locate a Central New York woman who hasn't been seen or heard from since Tuesday.
The woman is identified as 24-year-old Madelyn Fiore of Marcy.
Sheriff Rob Maciol says her whereabouts are unknown since leaving her home on Tuesday (October 3, 2023) at around twelve-noon. Her family has had no contact with her since then, Maciol said. A new release seeking information on her whereabouts noted the woman left her home without her cell phone, hasn't attended any of her college classes, not reported to work and hasn't had any contact with family or friends since.
Fiore's vehicle is gone as well - described as a dark gray colored 2013 Buick Verano with New York State license plate (KBY 1494). A photo of the vehicle is pictured below.
Fiore was wearing a flannel black and white shirt, and tan shorts. when she left the home, according to the Sheriff's Office.
Anyone with information on the whereabouts of Madelyn Fiore is urged to call the Oneida County Sheriff's Office at 315-765-2226.
This is the third notable missing person case in Central New York in the last week.
On Saturday, nine-year-old Charlotte Sena was abducted from a state campground in the Capital Region. Thankfully, the child would be recovered on Monday night, located inside a camper not far from her home - with authorities charging 46-year-old Craig Ross with her abduction.
Also, a 16-year-old Herkimer County girl has been missing for several days. Emily Clapper of Herkimer is a possible runaway and maybe have been headed to Oneonta, according to New York State Police.
13 Eyesight Myths That Have Been Completely Disproven
There are several untruths and innocent wives tales that have somehow seemed to stick over the years, despite the fact that they are unequivocally false. Often times, moms are the culprit in spreading these little lies as a way to keep their kids in line. Here are 13 myths about glasses and vision that are absolutely not true, according to the American Academy of Ophthalmology (AAO). Plus we've added 5 of our own Bonus Myths, to keep your attention.
Gallery Credit: Bill Keeler
Buy This $425K Eclectic Upstate NY Motel and Adjacent House...on Ebay
10 acres of beautiful real estate opportunity with a house, and a 20-unit motel on 10-acres of Upstate New York property that includes a private nature trail and a quaint pond. Includes public water and sewer. Located near Watertown on Route 3. Make an Offer or Buy it Now on Ebay! Message Licensed Real Estate Broker Amanda Miller to gain entry.
Gallery Credit: Bill Keeler
36 Ideas to Inexpensively Make Your Backyard Feel Like a Resort
Here are some fairly easy and inexpensive ways to make your back yard feel like you're on vacation and a beautiful summer resort. If these 5 families can do this in Upstate New York, it can be done anywhere!
Gallery Credit: Bill Keeler